Sakta men säkert börjar vi närma oss biopremiären av Guardians of the Galaxy Vol. 3
Guardians of the Galaxy Vol. 3 har nu äntligen en trailer vi kan titta på! Filmen, som en av de mest efterlängtade Marvel-filmerna under 2023 kommer än närmare biopremiären 5:e maj. Detta kommer vara den tredje filmen i Guardians of the Galaxy serien, därav kommer trilogin att vara ett faktum. Och det ser ut som att det kommer att vara slutet av Guardians berättelsen (men vi kan inte utesluta framtida spin-offs).
Medan Marvel och Gunn har bevakat detaljerna om Guardians 3 noga, har vi lärt oss tillräckligt om dess rollista från Gunns egna inlägg på sociala medier. Det här kommer dock vara Gunns sista samarbete med Marvel på ett tag för att han tog nyligen ett jobb på DC Comics att styra DC universumet.
Guardians of the Galaxy Vol. 3 trailer
Hur ser då de första scenerna ut av filmen? Jo, se här:
Rollistan i Guardians of the Galaxy Vol. 3
Chris Pratt – Peter Quill / Star-Lord
Vin Diesel – Groot
Zoë Saldaña – Gamora
Dave Bautista – Drax the Destroyer
Bradley Cooper – Rocket
Karen Gillan – Nebula
Pom Klementieff – Mantis
Elizabeth Debicki – Ayesha
Sean Gunn – Kraglin Obfonteri
Sylvester Stallone – Stakar Ogord
Will Poulter – Adam Warlock
Chukwudi Iwuji – High Evolutionary
Maria Bakalova – Cosmo the Spacedog
Den stora nyheten om Guardians 3 är att James Gunn och Marvel har hittat sin skådis för Adam Warlock. Will Poulter (Midsommar, We're The Millers, Black Mirror: Bandersnatch) kommer att spela rollen. Gunn sa tidigare till "IGN" att han planerar att ta tillbaka Elizabeth Debicki som Ayesha, som hade antydigt Warlock i en Guardians 2 post-credit scen.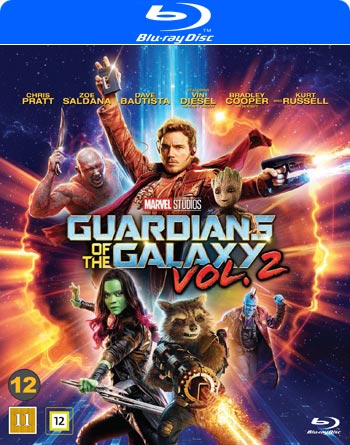 Guardians of the Galaxy 2 – (Blu-ray) – film
Alla i Guardiansgänget är tillbaka: Chris Pratt som Peter Quill/Star Lord, Zoe Saldana som Gamora, Dave Bautista som Drax, Vin Diesel som rösten till Groot och Bradley Cooper som rösten till Rocket. Nu gäller det att nysta upp mysteriet med Peter Quills föräldrar, vilka var de?
adtr.co
Naturligtvis kommer vi också att få tillbaka de viktigaste Guardians, med Chris Pratt (Star-Lord), Dave Bautista (Drax), Karen Gillan (Nebula), Bradley Cooper (som rösten till Rocket), Vin Diesel (som rösten till Groot) och Pom Klementieff som Mantis.
När har Guardians of the Galaxy Vol. 3 Biopremiär i Sverige?

Filmer släpps 5 maj 2023.

Kommer Chris Pratt att vara med i Guardians of the Galaxy Vol. 3

Ja, det kommer han.
---
Se också mina andra artiklar: